Reviews for Steve Mullings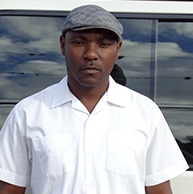 Steve Mullings (Stella) I am one of your tour guides with Karandas Tours. I intend to give you a personalized memorable experience while visiting Jamaica. I only give the best to all my guests!

---
May 25, 2017
We had a wonderful day in Jamaica! Steve was very knowledgeable and showed us many things on our way to the blue hole! We enjoyed jerk chicken on the way back!! A great day! Thank you!
Jennifer P
April 21, 2017
We booked the Dunns River Falls excursion and The Blue Hole/Secret Falls for our group of 10. Our driver Steve was fantastic – gave us a little history on Jamaica – he did a great job getting into The Blue Hole area – a larger bus would not have been able to manage that narrow dirt road. On our drive back to the hotel a few of our group were hungry and asked Steve if he knew where we could get Jamaican patties – he knew the place to go – Juici Patties – & they were great. Our guide at Dunns River Falls (Neville) was great, as were our guides Romaine & Michael at The Blue Hole. We all had a great experience. Would definately book with Karandas Tours again.
Sharon M
March 2, 2017
Hi Dwight,
I wanted to let you know that Steve (our driver/guide) was exceptionally good to us. He answered all our questions about the culture and agriculture of Jamaica.
During the Rum tour my mother-in-law became ill. On our way back, we asked Steve if he could help us get a wheelchair from the port to the boat. He did one better, took us as close as he could to the ship, got her a ride in a golf cart from our location to the boat. We were so thankful for his assistance.
The guide at Hampden Rum Factory was great and we had a good time with them.
Thank you for helping us have a good time in Jamaica.
Feburary 14, 2017
Hi Dwight,
I haven't heard back from all my clients but everyone who has reviewed really enjoyed the day.
Thank you so much. We will use your company anytime we come to Jamaica.
Sheryl W
Feburary 13, 2017
The tour was excellent and Steve terrific. Thank you.
Bob & Marianne C
Feburary 8, 2017
I rate our driver and guides 10 stars they were all awesome and the best tour that we took on our trip great job with your company and we will take another trip through you when we are back in Jamaica!!! Thank you!

Jan 23, 2107
The whole excursion was just amazing ! The cruise ship got to the port late and yet the driver was still there waiting for us . The location was magical laughed so much ! Thanks for everything
December 21, 2016
December 7, 2016
Good Morning Dwight,
We wanted to express our thoughts on our recent trip to Jamaica. You and your people work very well with us even through a confusing situation. Once we arrived on dock we were routed to where we were suppose to be and was very politely placed into an air conditioned van for our driver to arrive, which wasn't very long. Our driver 'Stevie' was an absolute gym of a guy and treated us fantastically showing us sights and providing useful and helpful information. Stevie showed us a fantastic time and was a perfect gentleman. We could not have asked for a better driver/tour guide than Stevie. When we return to your beautiful island we certainly will use your services again….our and thank you. Tell Stevie thank you as well and you all have our…….'RESPECT'.
Sincerely yours,
Ric W and group.
August 22, 2016
Hi Dwight,
We (6 people) took the Ocho Rios excursion to the BAMBOO BLU BEACH & RIVER TUBING ADVENTURE.
We were picked up on time after the ship docked and taken to a transfer point where we were the only passengers
in the air conditioned van. Our driver was informative and made sure we knew where to meet him and how to get
around at the river.
All of us had a wonderful time, our river guide was the best. He sang to us, told jokes and gave me the VIP treatment
during the whole trip. We stopped 1/2 way down the beautiful gentle river for refreshments, swimming and diving. They
had been taking pictures of us the whole time and we purchased all 47 pictures (at a reasonable price), they are a great
memory of our vacation.
After they dragged us out of the river (we didn't want to leave it is so peaceful and beautiful) we continued on to Blu Beach.
The facilities were nice but very expensive to rent a chair and/or an umbrella. My granddaughter had her hair braided,
4 of them were able to snorkel and both of my adult boys rented jet skis.
We returned to the ship tired, sandy, wet and VERY, VERY HAPPY….
I would recommend your agency and services to anyone wanting special treatment on Jamaica….
Thank You,
Carrie Y.
August 22, 2016
Hi Maureen! We loved our tour, Steve was great! Thank you!
August 22, 2016
Hello.
Our trip was great. We enjoyed ourselves and our driver was friendly and patient.
Thanks for the great experience and we hope to do it again in a couple of years.
Roberto V
July 13, 2016
Hello,
The driver was very punctual and friendly. Really enjoyed not having to wait to be transported. Had a nice time on the excursions.
Thank you
April 7, 2016
Dwight
Just wanted to say thank you for a wonderful day.
Steve was a great tour guide / driver he made the trip priceless.
After disembarking the ship we had a bit of trouble find Steve but when we did he was happy to see us and as we drove to the site he was great at informing us of the local history.
The Irie Blue Hole and Secret Falls are spectacular !
An enjoyable time was had by all, and the lunch was perfect. Steve took us to a local jerk shack in his neighborhood that was beyond our expectation.
I know you must get tons of mail and they are mostly complaints I am sure but I wanted to give you an email of praise and thanks for making our return trip to Jamaica not only welcome but a great memory for years to come.
I can not wait to book our next trip to Jamaica and another tour with your company,
Thank you for making it special
Adam
April 6, 2016
We had a wonderful time in Jamaica. Our driver was Steve and he was great! He was very knowledgeable on the history of the island and the culture and we were fascinated by all of the facts he gave us. He exceeded our expectations and safely got us to our destinations even in the downpour of rain going up the mountain to the Blue Hole. I also appreciate how professional and timely the planning of the trip went with you Dwight, thank you very much. I did complete a TripAdvisor review a couple of days ago singing your praises!
Thanks again and I will be sure to share your information any chance I have.
Best regards,
Elisa D
March 30, 2016
Hi, Dwight,
We are happy to report that we had a wonderful excursion with Steve, our driver, and with Lavon, our guide for the white water rafting. Steve was right where you said he would be and was very personable. He told us interesting information about the area as we drove to the Rio Bueno for our tour. He also gave us bottled water and allowed us to leave our dry towels, etc in the van. We felt very comfortable with him. Our walk in the rainforest and to the beautiful waterfall was lovely and informative. Then, our rafting experience was delightful! We had a blast! Steve was right there waiting for us at the beach after the river trip. We would highly recommend your company. Thank you for a great time for our family!
Warm regards,
Bill and Karen H
March 12, 2016
Our driver was Steve. He was great. Very friendly and fun to be around. We liked the tour through Jamaica and my grandson liked seeing the way people there make their living. Dunn's river falls was nice but we all enjoyed the tour better. Thank you for showing us the culture of the island.
March 6, 2016
Dear Dwight,
I am writing because I wanted to let you know that Steve, who was our driver in Jamaica when we were in Discovery Bay last week was wonderful. He was nice, kind, punctual, and helpful with all our needs and questions. He helped make our stay relaxing and delightful.
You should be honored to have such a nice and trustworthy man working for you.
Thank you,
Annemarie C
Feburary 23, 2016
Hi,
Our driver Steve was great! He was knowledgeable and kind. We would recommend him to anyone. Daniel our tour guide at the Blue Holes was excellent and showed us a great time! The young man that took us on the inner tubes down the river was also very pleasant and a smart young man. I apologize for not remembering his name. it started with a K. The only minor complaint that i would have, would be finding our tour when we came off the ship. This was not as clear as we would of liked, but once we found it, the young lady was very nice and helpful. Overall it was great experience and the people of Jamaica are wonderful! Thank you.
Feburary 3, 2016
Mr Soares,
I am writing you to thank you for another wonderful time we had while in Jamaica. No apology was necessary, for the mix up on the drivers, but we are grateful for being able to have Steve as our host for the day. You should be proud to have him as a member of your team. If there is anything you can do to promote his career, it would be an effort well spent. We will certainly recommend your services to anyone we know that will be visiting Jamaica in the future.
All the best,
Matt and Wendy Pahl
January 29, 2016
Hi there! Yes the guides and driver were exceptional! The horses were well taken care of and the trail was fun!
Michaela
January 28, 2016
Dear sir thank for all great people help in our visit at blue hole, your driver bus good person and inside the value hole great people in special antonio the guardialife
Thank you
Carlos and silvia
January 26, 2016
Hi Dwight,
The excursion was wonderful. Steve, our driver, was very friendly and helpful. The only thing that bothered us was at the end of Dunes River Falls when we went through the local shops, we wanted to look, however, the people was very forceful and one even said we "didn't associate with the poor people", which is not how we are at all. That was a little scary for us. Otherwise, we had a wonderful visit!
Thank you,
Cassaundra E
December 23, 2015
We had a phenomenal trip and was extremely pleased with our drivers.. Steve and (the name escapes me). The information about the island was nice along with a couple of interesting stops (queens highway and Columbus park). We loved climbing the falls and seeing lots of Jamaica traveling to the beautiful blue hole! What an experience! Can't say anything bad about our excursion! We created memories that will last a lifetime! Thank you for your service!
Misty
December 17, 2015
Hi Dwight,
We enjoyed the service and the tour.
We can not do until the end because my son broke his finger in Blue Hole when was the last part, holding the rope to jump into the river. Despite the fact, much like the tour and all the treatment we received, both at the reception, as our driver and support staff at Blue Hole. I will do good rating on Trip Advisor.
Thank you so much for your attention.
Best regards
Adriana G
December 13, 2015
Thank you so much. The tour of the lagoon was incredible. Truly once in a lifetime opportunity. Our guide was very fun and knowledgeable. And our driver, Steve was the best, even with the long drive he answered our questions and showed us what we were seeing on our way. Reasonably priced and very neat experience. Thanks again.
December 11, 2015
Hello,
We really enjoyed our excursion! It was lots of fun and a great value. Brenton (I think that was his name) was a great guide. Time on the beach at the end was nice.
We will highly suggest you to all going to Jamaica.
Thank you!
Blake C
December 2, 2015
Hello Dwight,
The tour was good!
I was hoping for more rapids in white water rafting but that was still okay.
I would highly recommend your organization to family and friends that go Jamaica. In fact I know of other people that are planning a trip there next year and will be sharing your contacts and website.
Thanks much.
Danielle R
November 19, 2015
What a wonderful trip. Errol was the greatest rafting guide we could ever have. He was so knowledgeable about all the floral and fauna along the beautiful Bueno (sp) River. The beach was fantastic. Can't wait to come back to Jamaica.
Mareen T
October 22, 2015
Steve was our driver. He was great. Very knowledgeable about the country. Got us back to the ship on time. We had a great time, thanks!
Jennifer K
October 22, 2015
The contact when we called to get information was great. He explained everything and was very prompt making the reservations. Again very professional. His name was Dwight.
The driver that picked us up a the wild orchard was very knowledgeable and filled us in with a lot of history. He got us to the "Blue Hole" safely and with a wonderful helpful attitude. He was very thoughtful and professional.
Thank You,
Robert M
October 21, 2015
Our tour guide was Steve and he was absolutely wonderful. He was friendly and knowledge and really tried to tailor our tour to what we wanted to see. It was great getting to know him. Thank you for making our short time on your island so memorable.
Karen R
October 2, 2015
Hello,
Our driver Steve was great and we had no issues. The birthday girl decided not to do any excursions so we were happy to be able to get to and from the airport with no problem. I will definitely contact you when I return to Jamaica.
Thanks again.
Deanne
Ruth
Sharon
Loray
September 23, 2015
Dear Dwight,
The tour was very good.
The driver who picked us up almost know everything we asked about the island, very good !
We would recommend this tour to everyone we know and is going to your beautiful island !
The Bob Marley mausoleum, very impressive !
Regards,
Rinaldo T
September 22, 2015
Our entire group enjoyed this excursion!! The driver Steve was awesome and Rasta was great too!! I believe we were running a little late but I'm not sure how we got right off the boat and in the van and drove straight to the stables. This allowed us to basically have our own vehicle and our own tour which was the best experience ever! Our drive let us cover up with sun screen again before he took us to the stables. The whole experience was wonderful and definitely would recommend and do again!
Thank you !!
Brittaney W
September 2, 2015
Hello, Dwight!
Our trip was wonderful! Steve made us feel welcome; we really felt like we learned a lot about Jamaica from him. My family and I are so glad we booked w/ you guys. Again, thank you for a great time!
Jackie Supnet
August 20, 2015
Had a fantastic experience. All the guys were great. Will send a better write up by end if week.
August 13, 2015
Hello Dwight.  Thank you for following up with me.  Our driver, Steve, was great! Was punctual, very friendly, and accommodating.  We had a great day trip, in spite of the rainstorm.
Blessings,
Candice
August 12, 2015
We had a great time.  Our driver was excellent…. very informative and nice.
We would definitely use you again!! ( :
July 30, 2015
We were extremely happy with our excursion.  We were a little apprehensive prior to the event because no one in guest services at Royal Caribbean had heard of Karandas and we tried to call the phone number on the website to confirm our pick up time and the number was not a working number.  So….when Steve showed up to pick us up we were very happy. He gave us a nice narrative about the area on the way to Montego Bay and the beach itself was very pretty and clean.  Also, the jerk chicken was delicious.  Thanks for making our trip a success!!!
June 30, 2015
I believe this guide was Steven. He went out of his way to accommodate our requests and ensure our group had a great time. He made us feel at ease at the lagoon. He was very friendly.
Thanks,
Shannon
May 27, 2015
Hi
Many thanks for a great tour! Of the 4 days of excursions we planned independently this was the best overall.
Steve our driver was there to meet us and we found him easily as per instructions. He was very informative and proved to be reliable and friendly throughout.
The Falls was a great experience despite being really busy. The guides were good fun and not too pushy when it came to selling photos and tips.
The rafting was ok but a bit tame. We were hoping for something faster and didn't even need to have to paddle with our guide doing that himself. Still it was a lovely river.
Overall great service from Karandas and Steve and would recommend to anyone
Thanks again
brad
April 22, 2015
We had an great time  this was our favorite tour by far  Steve was a great guide and the guys at the blue hole were awesome
April 2, 2015
Hello, our driver was Steve.  Very nice, very good, very friendly.  We really enjoyed our tour with Steve.  Steve answered all of our questions.  He even took us to a favorite local restaurant at the end of our tour so we could enjoy some local Jamaican food.
March 23, 2015
Our tour guide, Steve, was more than we could ever ask for. This was our first cruise and visit to Jamaica. He made it very exciting and fun! He was also very helpful with keeping on schedule. If we ever return, we'd request him as our tour guide.
March 17, 2015
Hello,
We had a great time on our excursion to the blue hole.  Our driver shared lots of interesting facts about the island and took us to a great place for jerk chicken after our excursion.  The guys at the blue hole also were excellent leading us around to the different jumps, were very patient and made sure everyone got their turn.  The blue hole was a beautiful spot.
Thanks Anne
February 19, 2015
We had a great trip to the Appleton Estate from Negril with Steve. He took us through the mountains on our way and we saw a lot of the countryside we would not have otherwise seen. While the ride to Appleton took a lot longer than we thought due to the route we took, it was worth the views and scenery we were able to take in. The ride home was shorter which was nice after the long ride there. Overall, I'd work with Karandas again if I was to book another excursion next time I go to Jamaica.
February 18, 2015
To whom it may concern,
Our trip with you to blue hole was the highlight of my vacation. We were picked up at our ship by a wonderful man named Steve who was our driver. He was kind and funny and upbeat and fun to be with. He drove carefully while explaining where we were and where we were going. I love going up into the hills and the adventure of the rough roads. When we arrived at Blue Hole I felt completely safe leaving my belongings in the van with Steve. We were handed off to a very special young man named Dylan who brought us to the Falls. What fun, incredible, amazing adventure going from one jumping whole to the next. It was wonderful how the height of the jumps started small and increased little by little until I was jumping from quite a height. Each step along the way I felt very well taken care of by Dylan an unbelievably safe. Dylan's nickname is Spiderman and I can see why he was so agile and Light footed jumping from one place to the other along the river. I haven't had so much fun in years. I look forward to coming back to Jamaica again and in trusting the care of my time there to Karandas tour's and the wonderful people they have working with them!!! I Love You Guys!! Thank you, thank you, thank you, thank you, thank you for an amazing day!!!!!!!!!!!!!!!
February 12, 2015
Steve was the BEST! I am getting ready to write a 5 start review on Trip Advisor!
We had the best time at Dunn's River and Tubing. He took care of us the whole time and our experience was perfection!
I would highly recommend Karadas tours in the future!
Monica
February 4, 2015
Mr. Soares,
Unfortunately, due to rough seas, we were unable to attend the fishing charter.  However, our driver, Steve Mullings, that escorted us from Falmouth to Montego Bay, provided excellent, very personable service.  I have traveled to Jamaica several times in the past on business, so I understand how "chaotic" Jamaica can be.  Steve helped us have a wonderful day and remain safe at the same time.  We are in the process of booking another cruise that stops in Jamaica and plan on contacting you to schedule something when we have definite dates.
February 14, 2014
Good day!
Thank you for your email. Sorry for the late answer, tons of work after my vacation J.
Our experience with the whole excursion was fantastic. The driver was great and the tubing down the river was awesome. Would do it again anytime!
And by the way, you Jamaicans are wonderful people! I hardly ever met so many nice people on any other island in the Caribbean!
Kind regards
Monika
February 19, 2014
Hi there,
We had the perfect day! Everything went smoothly pickup from cruise and the falls and tubing. We really liked Steve our guide who was very friendly and knowledgeable. Will definitely recommend to friends going to Jamaica and we will def use you guys again on a return trip.
Thanks for a wonderful day which has given us some wonderful memories and photos to treasure.
Kind regards
Lisa Sayers
June 15, 2014
Hi
This was the best excursion of our trip. Our driver Steve was fun, friendly, professional and knowledgeable. Blue Hole was beautiful, Jason made it even better.
I told lots of people on the ship about it.I am so glad we did this instead of Dunns River and saved some money on top of it all.
Thanks
July 16, 2014
Our driver was great!!! He told us all about the area and was very friendly! We gave him a tip which we only do if they go above and beyond.
My husband lost his white Oakley sunglasses in the river. He is very upset. Did anyone happen to find them??
Thanks!
Kelly Savant
June 19, 2014
Hi Dwight,
It was indeed a pleasure meeting you and your wonderful staff. The group had nothing but good things to say about Karandas and I've already recommended your services to a friend of mine who's thinking of an Ocho Rios trip later this year. Thank you for generously acting as both tour guide and driver for our drive from Kingston to Ocho Rios; it made the drive seem so much shorter. Also, you accommodating us on at such short notice for our trip to the Blue Hole, and then into the town centre on the following day was greatly appreciated. Both Dexter and Steve were impeccable in their service and looked after us from start to finish. A special thanks to Steve to for having to 'babysit' 5 women shoppers; most men have trouble with one! Once again, thank you for an exceptional service, one we wouldn't hesitate to recommend to others and hopefully use again ourselves.
Kindest regards,
Trilicia
We had a great tour, and will be recommending it to our friends!!
August 12, 2014
We were happy with our tour. Our driver, Steve, was very nice and prompt. If we are ever in Jamaica again, we will look you guys up, for sure and will definitely refer you to our friends and family! Thanks so much!
Deanna Slep
August 27, 2014
Hi Dwight
I am sorry I have taken so long to reply.
We thoroughly enjoyed our tour we took with your company at the end of August. All eight members of our tour agree it was the highlight of our cruise vacation. The secret falls tour was great. The guide at the falls was amazing and took good care of us – including a non-swimmer in our group. The rafting down the Bueno River was also wonderful as were the guides. Our driver was very accommodating, driving us to Scotchies for a quick take out lunch and then to a store where we could get Blue Mountain coffee. He ensured we had a full day adventure and was conscious of getting us back in ample time before our cruise departed. I would recommend this to others who are going to Falmouth. Also your pricing was very competitive and importantly your great cancellation policy should weather etc delay our cruise was one of the reasons we decided to tour with you.
This tour changed our experience of Jamaica from negative to positive.
Thanks for your help in making this a memorable experience for us.
Best Regards
Julie
August 30, 2014
Hi Dwight,
Once we found our driver he was INCREDIBLE! Gave us such an incredible riding tour to our first excursion. We were SO glad that we did that because he gave us a great history of the island and everywhere we were driving. We have many friends that are going to potentially honeymoon in Jamaica and we are telling them to use your services.
I cannot thank you enough, it was awesome!!!
Megan Thompson
September 6, 2014
Hello Dwight,
We had a great time and Steve was absolutely awesome. He was very informative when we asked questions from the island history to local cuisine. Very professional. We were very grateful he was our driver the second day as well.
Having a guide and bus all to ourselves, we ended up very satisfied. when we come back, we want Steve to be our guide again!
thanks for everything and please tell Steve we are grateful for his service.
thank you,
Joshua
December 4, 2014
Our driver/tour guide was steve…incredible experience, tons of knowledge, and really a true pleasure to have met. Bent over backwards to meet our every need. I will recommend your company and that driver steve to anyone I know going to ocho rios. Treated us like royalty and we really are very grateful.
Thanks,
Benjamin Anderton
January 14, 2013
We had a wonderful time on our tour. Our driver was wonderful! Thank you very much!
January 22, 2013 – Steve
Hi,
please say thank you to your driver steve who drove us on 22nd jan he was very good,
regards duncan
January 24, 2013
Hi Dwight,
Our driver was really friendly and fun to talk to. The water and pop in the cooler in the van was a great touch too.
Our river guide was also great. He took us up river to the waterfall area before we started tubing down and he was very helpful in making sure we didn't lose our footing on the rocks and in the water. On the tube ride down the river, he made the trip really fun with songs, stories, facts, riddles, and his personality in general. One part of the trip we didn't love, though, was at the rope swing halfway down the river, there was a place where people were selling gifts and souvenirs. We didn't have any money and it was a bit awkward. All in all, though, it was a great trip and we'll certainly be back the next time we're in Jamaica!
Sincerely,
James
February 20, 2013
Driver did a good job.
All in all the experience was good!
February 24, 2013
Hi there,
We had the best experience we could have on our guided adventure! We got picked up on time and were actually brought to Dunn's River right as it opened on Sunday so we had the falls to ourselves, it was perfect! Our driver was very nice and friendly and told us all about the areas we were driving through. He brought us over to the counter to get us into the falls and took care of everything for us. He then brought us to white river for tubing. He told us all about the main street area of Ocho Rios which we were seeing for the first time. He waited for us to finish tubing and was ready for us with a bucket of water to wash the sand off our feet. We couldn't be happier with our experience with Excursions in Jamaica and would recommend you to everyone going to Jamaica. Our guide at the river was also really awesome. This was one of our favorite days on the island for sure! We are so happy we went with JCA for our day out! 🙂
Samantha
May 24, 2013
Yes, our driver Steve was very courteous. At all times Steve demonstrate professionalism with us. The driving was great to Kingston. He stop and talk with us. My friend and I really enjoyed the service that he provided.
On the behalf of all my friends. I just want to say thank you for providing us quality.
Richard Streete
March 27, 2013
Hello, My family and I did enjoy our trip to the falls with your company. Our driver Steve was waiting for us in our hotel lobby and was very knowledgable when we asked him questions. He walked us right into the falls and paid for us. He told us to meet by the bus turn around when we where done. He said the fall would take us 1.5 hours. We told him the sheet we were confirmed said 3 hours, he said either was fine.
It was insanely busy on this day.
Finally found our driver and he asked if we wanted to go shopping, told him no thanks.
Overall good experience.
Valerie
April 4, 2013
Hello Mr. Soares,
We truly enjoyed our tubing adventure. The kids rated it number 1 among all of the different tours we took on our trip. The staff was nice and helpful and the area was breathtaking. Our driver was nice and very polite.