Reviews for Uton Rose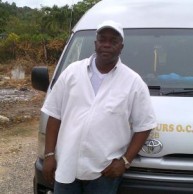 Hi my name is Uton Rose and I am one of your tour guides and ambassador to Jamaica. I have been conducting tours in Ocho Rios for the past 15 years, with my years of experience and knowledge, I promise to give you an enjoyable experience while visiting my home Jamaica. I also guarantee that your experience with Karandas Tours will be most memorable!

---
March 8, 2017
I just wanted to thank you for arranging our excursion. We had a wonderful time and Uton was everything we could have asked for in a guide. He was kind with our children, knowledgeable, flexible, prompt, and candid. We are grateful we got to spend part of a day with him. Thanks to you all, Jamaica was our kids' (picket dem!) favorite spot. We will happily recommend you to others.
Best regards,
Jon
March 3, 2017
Hi,
I would just like to say that we thoroughly enjoyed ourselves on the Best Of Ocho Rios Tour.
Uton was extremely friendly and courteous and knowledgeable. We were the only 2 on his tour so got a much more personal tour!
Picked us up from our hotel on time and gave us so much information and answered all our questions. He kept the minibus locked at all times we were doing the 'events' so we could store anything we didn't need to take with us.
We really enjoyed the Best Of Ocho Rios Tour – Fern Gully/Blue Hole & Secret Falls/Local Neighbourhood/Dunns River Falls. As there were no cruise ships in when we did the tour, we pretty much had the blue hole to ourselves and Dunns River Falls was not too busy either. My wife really enjoyed doing Dunns river! We had the bonus of a meal at a Jerk centre which was actually really nice – simple but nice.
We wouldn't hesitate to book with you again!
Regards,
Carl
January 16, 2017
Our driver was awesome… and the service was excellent… we will for sure in the future be using your service again
Thank you
Joe
December 25, 2016
November 27, 2016
Sorry for the late response, we have been busy with the holidays. This trip was fantastic, our driver was very kind I believe his name was Uton. The guide we had at the Blue Hole was fantastic! I believe his name was Romaine. We also had a great time at Dolphins Cove. We were impressed with our overall vacation but really enjoyed our excursions. We have told everyone we know if they go to Jamaica to book through your company for trips. I know if we come back we will do the same.
Thank you,
Shane H
November 27, 2016
Hello Dwight,
Your services fully met my expectations both ways, to the hotel and back to the airport. Willie and Uton arrived on time, drove safely and told us a lot about Jamaica/ answered our questions.
I will absolutely use Karandas in the future and have no problem recommending your company.
Best regards,
Dmitry
November 15, 2016
We loved our trip. Wrote a very positive review on TripAdvisor. Would strongly recommend and book again. Thank you so very much.
November 9, 2016
Uton Rose was wonderful! Such a kind and helpful man. He took great care of us! Thank you so much!!
Cindi M
September 6, 2016
We had a wonderful time at Dunn's River Falls, our guide Uton was the best, he was very informative and took us on a wonderful journey, he made our experience in Jamaica wonderful. I will definitely book a tour with them again. Thanks for making our vacation so awesome !
Thanks,
Cha-De W
July 27, 2016
Dwight
I will go to tripadvisor when I have time to give you a great review!
Our driver, Uton, was great and very informative. He narrated the entire way and gave us fun facts. He went the extra mile to personally walk us into the Falls area and lines.
Lunch was just ok at the place chosen but he chose based on our having kids to tend to so we totally understood. Next time, we'd love some recommendations for more true Jamaican places to eat.
Then Uton took us to the tubing excursion. We were a bit concerned as we drove way off the beaten path to get there, but again, Uton delivered us right to the location, ensured we were taken care of, and was waiting for us at the end of the river.
Overall, I would give the entire experience a 9 out of 10! The only thing I would improve is having more lunch options available in advance to choose from….some mainstream, some off the beaten path, such that visitors can have this planned out ahead of time with the driver.
Thanks so much again! It was an awesome trip and your company did a superb job!
Christina V
June 29, 2016
Hello Dwight,
I just wanted to take a moment to send you my biggest praises from a wonderful excursion. My family of four enjoyed our trip very much. We were showered with good luck that day as were arrived at the Blue Hole earlier than all the other buses and we enjoyed the play to ourselves, as we were leaving the buses were arriving. Our falls guide, Lil T, was wonderful. What a gem you have in him, he was funny, talkative, personable and all things you hope a tour guide will be. I was hoping he would be with us for the tubing portion of the trip, he was not, but the guide there was just as nice, just not as talkative. I will be passing Excursions in Jamaica along to anyone I can.
Have a great day.
Suzanne C and family.
May 24, 2016
Hi Dwight,
We had a wonderful time on our excursion! The guides were all incredible and the excursion was a true eco-adventure. Look forward to doing this again one day.
If we could improve one area, it would be the initial pick-up. There should be more signs and/or direction to where you get picked-up at the pier, just so that it is easier and quicker to find. Besides that, all is good!
Have a great day!
Jesse Q
April 28, 2016
Hi Dwight
We really enjoy our trip to Jamaica especially our excursion to the Blue Hole, Secret Falls & Dunn's River Falls. Thanks to your asset Driver/ Guide : M'R Yoton (I hope I pronounce his name correctly). He was very nice and courteous, Took care of all our needs, shopping, restroom, stops etc. he's knowledge about your island exceeding all expectations. He really knows a lot about Jamaica, and he was kind enough to share all his knowledge with us.
We thank you very much for the good time that we have with you. We definitely will come again to Jamaica and we highly recommend your services to our friends.
Regards and thank you very much.
March 23, 2016
Thank you Dwight
We were very pleased with the excursion we took in Falmouth.
Both our driver (forgot his name) and Demar, who guided our raft were very nice people. Quite dedicated to make our stay pleasant and enjoyable.
I have already recommended your tours to many of my friends.
See you soon again.
Best Regards
Pedro
March 22, 2016
Your driver was excellent he was very knowledgeable and answered all our
questions. We would definitely use your service again and would recommend
it to others. It is far superior to the group tours offered.
Thanks
Sharon
March 16, 2016
My family and I want to thank you and your wonderful staff for the best experience in Jamaica ever. We will definitely contact you again the next time we visit Jamaica, hopefully in November. Both Uton and Oral were the best tour guides we could have asked for, thank you again for all your help.
March 13, 2016
Good morning Dwight,
We had a great experience with your drivers. Uton picked us up and took us to Ocho Rios. He was upbeat and informative. Robert was our driver for the rest of the day. He was amazing and made sure we had an enjoyable experience. Robert is friendly and accommodating. I was hungry after all of the jumping in the blue hole and river tubing so he took us to Scotchie's for some good jerked chicken. Cindy and I had an experience so different from the hotel tours. We loved that it was just Robert and us.
The tour itself was great. Romario was our guide at the blue hole. He took so many amazing pictures….we have a lot of good memories there and pictures to prove it. 🙂 we had George on the river. He was great, too.
We will definitely use your services again on return trips to Jamaica.
Thank you!
Jill
March 8, 2016
Hi Dwight,
I just wanted to let you know we had a blast on our excursion and would recommend it to anyone. Our entire experience was positive and we had no negative comments to provide. Our driver, Uton, was great and provided a ton of great information on the way to the excursion. Our tour guide, Daniel, was wonderful and we were grateful with all his help moving around our 5-year-old daughter, Lilly, through the falls on the parts she couldn't participate in.
The only comments we had were I wish we had a little more time at the falls to swim in the water. The other comment was our driver told us we could not bring cameras or anything that can't get wet on the trip, however, many of the other groups brought cameras and cell phones to take pictures and videos of their excursion. Unfortunately, we missed out on that opportunity because we were told we were not allowed to take cameras.
Overall, we had a great time and thought this was a truly unique experience and I was completely satisfied with it! Thanks for the great time!
Feb 1, 2016
Our driver was excellent. He was always friendly and courteous. We have visited Ocho Rios many times and had seen many of the traditional tourist destinations, but when our driver took us to these sites, he always seemed to find something extra to show us, or take us on a different route which was always more entertaining. We relied on him to provide other options on where to go and what to see, and he always came through. He was always prompt in picking us up at the appointed time. Our only complaint is that he was so good that has spoiled it for any future bookings, as all future drivers will pale in comparison. If any future clients were to contact us, you can be sure we will give glowing reports as every member of our group only had super positive comments about this driver. We thank you, as it was a real pleasure to have him drive us around.
John T
Jan 11, 2016
Uton brought us to airport in a timely manner. We appreciated your professionalism from start to finish. I shall make sure to provide a review in the up coming days.
Sharon
December 2, 2015
Good afternoon,
The excursion was amazing. The driver and the guides were great. We received an awesome tour of the city. Definitely will be coming back to Jamaica. If we reserve a big group do you offer a discount? Thanks for all your help.
Mark V
November 26, 2015
Hey Dwight 🙂 our tour was awesome as always! Uton was great and was glad I could take him on an adventure he's never been on…hahahahaha might have to ask him about that lol. Anyways thanks again for such great service and I always recommend you guys to our friends when they come down. Thanks for checking in and will see you again on our next trip to the island!!
One Love!
Kristie F
November 19, 2015
We enjoyed both the tour and driver (Uton) who gave us information/history of the island and was ok stopping when requested. I will give your information to family and friends who's traveling your way.
November 18, 2015
Hi Dwight
The excursion was incredible! I so appreciated Captain Dundee's enthusiasm and positive attitude for the whole trip – he and the rest of the crew were a blast, and please pass along my very sincere thanks for having us along for such an awesome time. In hindsight I wish I had asked to try the other two types of fish we caught, just to compare the Mahi Mahi versus black jack and marlin, but the Mahi Mahi was done flawlessly and was definitely some of the best fish I've ever had.
Thanks again for helping coordinate such an amazing day!
All the best,
Chris S
November 5, 2015
Our experience in Jamaica was wonderful. My family and I loved the blue hole. Our tour guide was amazing. When we return to Jamaica we plan on using the same tour guide. I will forever be grateful of him for helping us attend to my son's nausea.
Gloria C
October 22, 2015
We had a great time, Dwight, thank you for asking! The only thing I didn't like about the trip was that the zip line and falls were far away from Mobay. Nothing we can do about that, though! 🙂
Uton was a fantastic driver – he kept the trip interesting by talking about the points of interest along the way, providing historical and other bits of information. We had a flat tire on the way out, but we got it changed quickly and resumed our trip to H'Evans Scent.
Once at Dunn's River Falls, Uton noticed that we were running a bit behind. He negotiated with the crew there to get us a guide to provide a quicker tour of the falls, and gave us a quick trip back to the port.
It was definitely a good experience – I just wish the ship had a longer stay so we could spend more time.
We will be staying at the Hyatt Zilara the first week in March with a group of friends. We will likely spend the majority of the time at the resort, but I wouldn't be surprised if we make a trip or two out to explore the area.
Steve J
October 19, 2015
We had a wonderful time!! Our guide was very knowledgeable and polite. We will definitely use your guide service again the next time we visit Jamaica. I also recommended you to a friend who is visiting Jamaica in February. Thanks again for a wonderful time!
Jennifer C
October 7, 2015
Good morning,
Just wanted to say that we had an excellent excursion with Uton. He truly appreciated his friendliness and his knowledge about Jamaica. He went above and beyond to accommodate our family.
We had a lovely time visiting the Blue Hole and river tubing. We hope to return again and have Uton as our guide.
Sincerely,
The Oun Family
Buffalo, NY
October 6, 2015
Our tour was wonderful. Our guide, driver, Uton was excellent. I highly recommend your service. My friend lost her glasses at Blue Hole. Your service contacted me after we returned with found glasses ready to mail them. I hope to return some day and take your tour again. No problem with tour! everything erie! Our party of 4 enjoyed it very much.
We can't thank you enough!
Debbie K
Texas
October 6, 2015
Hi,
This is to thank Uton for a wonderful experience. Start to finish. He made our excursion wonderful. Will use your services again!!
If you would like to post on your website , you may do so. Once again thank you for a memorable experience.
Thank You,
Morales, A.
September 26, 2015
HI Dwight,
I have nothing but good things to say about the experience! The driver was great, on time, gave us a small tour of the city and very friendly! Although the actual excursion was a little scary for me….everyone had a great time!
I have a couple of groups travelling to Jamaica in Feb and April …. I will see if anyone is interested and let you know!
Nikki H
September 23, 2015
Dwight
Just want to thank you and Uton for a great experience. The Dunn River Falls and Martha
Brae Raft Ride were great. Our driver, Uton, took very care of us. Thank you again
Donna and Nick Repici
August 21, 2015
Hello Dwight,
Our driver Uton was very professional, knowledgeable and kind. He did not rush us as we were shopping at Margaritaville, he was very patient, explained to us the Jamaican culture, food and answered all of our questions , he was very knowledgeable. I would recommend Uton and Karandas Tours to everyone, We felt very safe, we had a great experience, Karandas Tours surpassed my expectations, very flexible with our last minute schedule changes, no hassle, easy to communicate with, Dwight was very understanding and patient with us canceling some of our tours at the last minute, I would book with Karandas Tours all over again. Thank you for everything, God bless you.
Jeidi Monegro
July 22, 2015
Hi Dwight,
The driver for our Dunn's River / Dolphin Swim excursion was on time and professional. We had a pleasant experience with him.
Thanks,
Philip
July 14, 2015 
Hello Dwight,
Your services definitely lived up to our expectations and all five of us had a wonderful experience in Jamaica.
Our driver Uton was very knowledgeable and informative, after our excursion he even offered to drop us off to shop and then pick us back up after he dropped off the other group at the cruise ship (they were not interested in any other stops whatsoever). He definitely went out of his way to make everyone happy!J I know our group was very pleased with him!!
I also wanted to say THANK YOU for your effort in accommodating us due to the Wi-Fi issues (texting and calling our hotel room). Excursions In Jamaica (Karandas Tours) is a very reputable company and I will be recommending you all to anyone traveling to Jamaica!!
Again, thank you for all your time and efforts in accommodating us; it was a pleasure working with you!!
Susie Gilbow
July 14, 2015
We fully enjoyed our experience.  The driver and guides at the falls were excellent, helpful, and full of information.  Well Done!
Wayne
June 2, 2015
Good morning, Dwight,
We did have a terrific tour. Our guide was very friendly and professional. He gave us a lot of interesting information we did not know before. He was also very attentive to our needs as our group wanted a more authentic experience for lunch so we chose Scotches and the other group in our van preferred Margaritaville. He made that happen for both our groups. We really enjoyed the Rose Hall tour as it was beautiful and very interesting. We definitely loved the Jerk chicken lunch. All in all, we did enjoy our time in Jamaica very much and appreciated the great tour.
Jenny
May 4, 2015
I loved our blue hole tubing tour. The driver was great and friendly. And the guides were wonderful too. Perhaps next time I'll do the zip line one.
April 9, 2015
Dwight,
Our guide Uton was excellent.  He provide a great history of your nation, as well as answering our many questions in a professional manner.  He drove safely and provided us with regular photo taking opportunities.  He delivered us safely to Konoko gardens, Dunn's River Falls and to the Ohio Rios Jerk House.  He did an excellent job assisting with food orders at the Jerk house, and that was a bright highlight.  He dropped part of our group for shopping and the rest at the cruise terminal.  He took good care of the children and adults.  We would recommend Karandas tours to others and would consider you for a different tour next time we visit.  The vehicle was large enough for our group of 15, but just barely.
Thanks for the great visit.
Alan
April 2, 2015
We had a wonderful time. Our guide at the blue hole was amazing. He let us take our time and enjoy every moment.  He made us feel safe as well as able to jump, climb and swim.  The white river tubing excursion was also wonderful. I will do it again the next time I'm in Jamaica.
Thanks for everything,
Kris
February 23, 2015
Hello Dwight,
We really enjoyed the entire excursion! Our driver was great – he was personable, told us about Jamaica, answered questions, and pointed out interesting things along our drive. The zip lining was wonderful – the group of young men that ran our morning there were excellent. They were talkative, knowledgeable, and we always felt safe and cared for. Dunn's river falls was awesome, our guide that led us up the falls was comical and nice. We had a blast with it all and were really glad we booked the excursion!
If we are ever back in Jamaica – cruise or otherwise – we would definitely book an excursion through you again!
Thanks,
Sarah
February 11, 2015
Hi Dwight
Uton was great! Thanks for your communication.  I will certainly use your company again.  Very professional!!!!
Thanks
Lynn  (by the way it is minus 15 degrees here today…wish I was back in Jamaica!)
January 25, 2015
Hi Dwight,
First let me say THANK YOU!!!   You and your staff were beyond wonderful!!  We all had a fantastic time on both the Dunn's River Excursion as well as our last minute trip to the Luminous Lagoon.
The gentleman who drove us to the Lagoon was very accommodating and even played the "China Man song" that the bride had been requesting our entire trip.  I have to say this was a highlight of our vacation!  We will definitely be in contact when we return to Jamaica in the future and I will recommend your services to others.
Thank you once again, and a special thank you from my partner who says the Jerk Hut was the best meal he had in Jamaica!!
Until next time,
Ceilidh
January 12, 2015
Dear Dwight, I have one word to describe the entire trip
FABULOSO!! 
From Uton the driver to Tony the tour guide, it was phenomenal!!  We have recommended you to everyone that has mentioned a possible vacation to Jamaica.  The helpful information that Uton provided to us, was very interesting and educating as well.
THANK YOU!!
from the bottom of our hearts, to you and your staff for helping make a memorable trip unforgettable!
Hilary A Bradshaw
December 31,  2014
Dwight-  I will recommend your company to everyone I know that comes to Jamaica!  Our experience could not have been any better.  The driver was amazing:  knowledgeable, kind, always available and made us feel secure the whole time.  The River tubing was amazing and we were fast tracked through to get to the fun fast.  Dunn River Falls felt the same way.  We loved that we didn't feel like we were a part of a "cattle call" like the cruise ship groups—we got straight to vacationing!   Thank you!    Kerrie
December 29,  2014
Dear Dwight, I wanted to thank you whole heartedly for the most amazing excursion in Jamaica! Our entire family of 8 (my family of 4 plus my sister-in-law's family of 4) had the BEST time! Everything from the pick-up at the hotel, to our easy admission at both Dunn's River Falls and Dolphin Cove went off without at hitch. Swimming with the dolphins will go down as one of THE most amazing experiences of my life. All of the personnel were exceptional! So much so that we had to rebook our shuttle home with your outstanding driver, Uton. The shuttle that picked us up from the airport had us fearing for our safety! After the superb service from Uton we arranged to have him drive us to the airport. We were SO happy with all of the services that your organization provided us on our much needed vacation! I have already recommended you to a friend who is leaving for Falmouth on Thursday and the owner of the house that he is staying in!
Thank you, thank you and THANK YOU again for everything!!
Sincerely, Susan Jackson-Scott
November 24,  2014
Hi! Our excursion was great from the beginning. Our driver was very friendly and informative. He spoke to us the whole way to the blue hole about our
November 24,  2014
Hi! Our excursion was great from the beginning. Our driver was very friendly and informative. He spoke to us the whole way to the blue hole about our surroundings and took the time to answer any questions we had. The blue hole and secret falls was so much fun! All 12 of us loved it. The guys were all so helpful and patient as we climbed the falls and jumped.
The river tubing was more relaxing and fun as well. The driver stopped for us on our way back to our hotel in Montego Bay for some jerk chicken and drinks. Delicious!
We tipped him for his service. He was fantastic. I would definitely recommend your company to others and will be using it again when I return to Jamaica. Thank you so much.
Sydney
November 21, 2014
Hi, Both transfers were excellent!  Uton our driver was outstanding, he gave us a lot if great information about Jamaica, which was very nice since it was our fourth trip.  Thanks again for everything!!
Pam Abbott
September 22,  2014
Hello Dwight,
This was our first cruise, and to be honest, my expectations were very high.  I want you to be assured that my experience with your company far exceeded the very high expectations that I had.  Our experience in Jamaica was our favorite part of our trip.  Uton (I believe this is our guide's name.  I apologize.  I am bad with names.) was incredible.  He was extremely informative about the area and the culture.  He was courteous and just all around wonderful.  He is certainly an asset to your company.
Every person that we encountered in Jamaica was just so warm and friendly.  Our guides at the Blue Hole (Little T and Jullian) were amazing with my 8 year old daughter.  They were always making sure she was safe.  Our river rafting guides were also wonderful.
We cannot wait to come back to Jamaica and wouldn't dream of using another company to tour with.  I will be sure to recommend you to anyone planning to visit Jamaica.  Thank you so much and I look forward to our next trip.  Have a wonderful day!
Best Regards, Michelle Gallagher
September 18,  2014
Hi we arrived back in the UK early today I just wanted to say thank you very much for an excellent trip the driver was it uton and was excellent many thanks
Sharon and Dave evans xxx
July 16, 2014
Dwight, our excursions were absolutely wonderful. I want you to know how great our guide (Uton) was, he is a fantastic driver and was very thorough about the history and culture  of Jamaica. We had a special request and he accommodated us, he made our experience perfect, thanks Uton!!
Marc Garrison
July 10, 2014
Sorry I am just responding to your email, I have been ill lately and just getting around to emails that could wait but in answer to your question our Driver was very professional and picked us up on time going and coming back to our Ship.  He explained some of the Highlights of the Island on the way to Beaches Ocho Rios and was very courteous and friendly.  Thank you again for providing us with very good service.
Best Regards, Julie
June 30, 2014
Dear Dwight,
We had a fabulous time on the Mystic Mountain and Blue Hole excursion!! Uton was a careful and informative driver. It was wonderful to arrive early at Mystic Mountain. At the Blue Hole  we loved our guide Devore.  He was patient with us, helpful and friendly.  My husband and youngest son were unable to attend this excursion because they wanted to do the dolphin excursion also. They went to Dunns River Falls and were very disappointed after they heard our stories and saw our pictures that they couldn't combine their dolphin encounter at Dolphin Cove with the Blue Hole. I will highly recommend you on trip advisor.  Please thank Uton and Devore for making our trip in Jamaica so memorable and enjoyable.
Take care, Maria Nolan
Our driver Uton and the guide Devore
June 8, 2014
Thank you so much Dwight for EVERYTHING!!!
I must say we were a little skeptical at first but you and your company definitely proved us wrong!!!
EVERYTHING was EXCELLENT and Uton – well what can we say. EXCELLENT all the way around. He was so pleasant, informative and knowledgeable that we requested him again for our second excursion and I must say – AGAIN – we weren't disappointed!!!
In our eyes Karandas Tours and Uton were 5  plus!!!!!! Once again, thank you all for your EXCELLENT customer service!!
May 8, 2014
Our driver, Uton was fabulous.  He took us on a trouble-free ride to both places and was waiting for us when we returned from the tour.  He was very nice and informative and put us at ease the whole time.  I would very gladly book with your company again.
Karen B. Valentine
April 16, 2014
We were thrilled with the service your company provided our group.  Uton was amazing.  He made us feel safe and welcome.  He was very knowledgeable and friendly.  It was great to get off the ship and find him there holding the sign with my name on it.  Great to have a private air conditioned van as well.  He was very flexible and stopped at a great place for lunch as well as shopping after the excursion.  Booking with you saved us money from what the cruise charged and we will absolutely use you again in the future.  Again, I want to stress that Uton was awesome and we are thankful for his service.  I will be writing positive comments on TripAdvisor as well today.
Brad Brackman
April 1, 2014
We had a great experience!!  Our driver was very accommodating and knowledgeable.  I definitely recommend your company for excursions.  5 Star!!
March 18, 2014
Dear Mr. Soares,
Uton was our driver and he was wonderful.  Since our excursion was the furthest from the port, we had Uton all day.  He took us to Jerk City for lunch and it was amazing.  He was also great company and very informative about Jamaica.
The Blue Hole & Secret Falls Excursion was also a winner.  We were cruising with two teenage and one 5 year old boy.  It was hard for me to find something that was exciting enough for the big kids but safe enough for the little one.  When there was no age restriction on the Blue Hole tour, I hoped it would be the winner.  I was a little confused by the website and packed snorkel gear and collapsible tubes thinking that we would be there longer but other than that, I can't say one negative thing about the experience.  In fact, Ricardo (our guide at Blue Hole) was AMAZING.  He took charge of my little guy immediately which allowed me to enjoy the experience.  I could tell right away that he was good with kids and my son took right to him.  Ricardo stayed right beside my son the whole time and was looking back to make sure I was okay as well when we were climbing up and jumping down the falls.  Ricardo also took our waterproof camera and snapped pictures and took videos for us.  We are very grateful for that as well.  He was absolutely wonderful.  The older kids did higher jumps and the little one did smaller jumps.  It was perfect.
Both Uton and Ricardo made our day in Jamaica the best it could have been.
Thank you, Corrine Bylund
March 15, 2014
Thank you very much Maureen. BTW….we very much enjoyed both of our tours with your Company and your driver was great…we felt very safe with him and he was great at telling us about the Jamaican culture and points of interest.
Perry Smith
February 24, 2014
Our tour was amazing!! Our driver was the best  we gave your number to a few couples at the resort we also gave it to a group going there next week !! When we go back to Jamaica we call you again and request the same driver. He was an amazing guide and made us feel safe with his driving.
Thank you very much for an amazing day it made our trip
January 28, 2014
Thank you so much for the opportunity to visit Ocho Rios! We had a blast and enjoyed every part of the excursion!
December 9, 2013
Hi Dwight – My apologies for not contacting you sooner. I just wanted to thank you and your company for all of your help on our recent visit. Having you handle the transportation to Port Antonio made the trip possible and so much more enjoyable for me. I just couldn't figure out how to manage with 5 adults and 4 little ones. Also your help with our friends and family coming in through Kingston was also greatly appreciated. Both parties were extremely pleased,  your driver was wonderful.
I would like to especially thank (Mr.) Uton. Since our trip to Jamaica was so short, we were lucky to have him . Besides driving us, he was an excellent guide. He was able to tell us so much about  the area we were  traveling through, it made for a very enjoyable and educational drive.  Please give him my thanks. Would it be possible to also give him an additional tip for his services. Please let me know.
Thank you again for you assistance. I look forward to hearing from you.
Best regards. Marilyn Wigder
December 4, 2013
Our tour guide was great. Uton was the driver and he was there waiting for us when the ship docked even though the ship was late.
He was kind and funny and was there waiting to take us back to the ship after the river adventure.  Very positive experience. The river adventure was great. Cruz was our guide and it was fun doing a private excursion on the river. Again, he was kind and funny and taught us a lot about Jamaican culture. Showed us a great time.
So we are happy with the experience and would use your company again on a future cruise.
Thank you! Lisa Hendrickson
November 11, 2013
Hello, Our tour was great. In fact magical. Thank you for everything. Everything was on time and everyone was patient with the large group we were traveling with, which was much appreciated.
I do have a question though, is there any way possible to get the video that my group was filmed in for dunns river falls tour up the waterfall? I'm quite upset I never received it for memories. Please let me know. I hope it's possible…and have no idea who to reach out to for a copy. Maybe you would be able to help?
Thank you very much, Alexa Knox
April 29, 2013
Hi, I wanted to send an email to say that we have a fabulous time on our excursion. The whole package was amazing and put together very nicely. But above anything we were extremely impressed with the incredible service we received from our guide Uton. We were so happy the first day that we decided to book another excursion the next day with him and your company. Uton was friendly, very accommodating but we love how comfortable and safe we felt. Four girls traveling in a new country is sometimes a little nerve racking but with Uton we felt like we had someone watching over us. He gave us tips and recommendations. His service really made our trip fantastic and we would not hesitate to book with your company again when we are back in Jamaica.
Thank you.  Surina Sohal
April 29, 2013
Hi- I just wanted to give you a review of your company and that more people should know about your amazing tours. We were four girls and very hesitant to book but you were all very accommodating and very efficient. I want to say you guys are truly amazing and that our driver UTON was beyond amazing. He met all of our expectations and exceeded them. He took us everywhere and too all of our destinations in a timely fashion. He was very helpful and very nice. You guys honestly have the best team working and we will definitely be coming back and going with your company as well!!!!!
Also- we booked a last minute excursion and was very accommodating as well. Thank you for the amazingggg experience!!!!!! And making our trip to jamaica AWESOME!!!!
– Gurmeet
April 17, 2013
Dear Dwight, Just a quick follow-up on our Dunn's River Falls Trip with Uton on Tues. April 17th.  It was terrific. He was prompt but unfortunately we were not.  The group became separated when one of our group members was unable to disembark due to a computer ID problem.  Given that she was a minor, they had to go back to the Guest Relations Desk onboard to rectify the problem.  Uton was very patient but we were about 1 hour late getting started. It was a comfortable ride and he was a great, personable and informative guide.  The kids wanted to stop to get a drink and a snack and he was very accommodating.  When we arrived at the falls he walked us through to the main gate and told us exactly where to meet him when we were done.  He was right there as promised when we came out of the park.  The falls were fantastic-although the last time I was there was over 20 years ago so it was a little more challenging than I remember!  Overall we had a fantastic time. It was definitely a highlight for all of us.  If we were to return to Jamaica in the future I would not hesitate to use your tour group.
Thanks for the stress-free experience!
Fondly, Barbara Mooney
January 1, 2013
Your driver was the best.  He spoke about the island and was very informative.  I was hesitant to book transportation online but I am glad I did.  The van was very clean too.
There was a little confusion on what time the van would pick us up at the hotel for our return flight.  But that was cleared up with an email which was promptly answered.
Your detail to customer satisfaction is well above others.
Angela Van
December 21, 2012
Hi Dwight, We were anxious to get to the hotel after our flight and Uton did a great job getting us there quickly (no complaints). Uton was great he took us from the resort to the airport to depart.  He was very informative and told us many things about the island answered all of our questions.  He was great!
Hope that helps,  we would use you in the future and would recommend you.
William Onorato
June 14, 2012
Dwight, Just wanted to drop you a line to let you know we thoroughly enjoyed our excursion with your company. Uton , our guide was very patient, understanding and friendly especially with our diverse group of 14. He met the needs of all of us and your tour was very well represented. We have already referred your company to some friends who are cruising in the next couple of months. I also will do a review on the internet for others to see.
Thanks again, Maria Perry
April 27, 2012
Hi Dwight, I just wanted to email you to say that my group made it home safely. On behalf of my entire group, I want to extend our most sincere appreciation for such a memorable stay in Jamaica. Our driver/guide, Uton, was very punctual, knowledgeable and calming, and arrived in a clean, modern air-conditioned mini van to for pickup each day.The tours that your company organized were most satisfying for our diverse group that ranged in ages from 28 to 67 years old.
Thank you also for being so accommodating by arranging for my group of five, which flew into Jamaica on Tuesday to meet up with our family of six that was arriving by cruise ship on Thursday. It was my uncle's 50th birthday celebration and he was thoroughly surprised and touched to see all of us in Jamaica just for him. The Bob Marley Nine Miles tour capture many of the highlights of Montego Bay and surrounding towns. The driver, Uton, really made the journey there a fun-filled adventure, and we laughed and joked the entire way. And we really appreciate having Uton as our local driver/guide over our four-day stay, as his perspective and insight were truly valued by all. There were many stops to just take in the scenery and for pictures; and for a group of our size no one ever felt rushed.
My younger brother and cousin, 28 and 30 years old; respectively, had an "awesomely cool" time. Particularly, they talked endlessly about the Catamaran Cruise and Snorkeling excursion. The Catamaran had a vibrant mix of hip music with an opened bar and a lively crew that really got the crowed hyped, grooving and dancing…with videos, pictures and text messages to prove it. That was to only be topped off by the snorkeling adventure, which was a first for us all who participated. However, the crew and certified divers became very serious at this time to give safety and snorkeling instructions. They also gave first-timers and non swimmers additional instruction that made us all feel more comfortable and relaxed…and the underwater views were spectacular!!
Finally, the ladies of my group want to express their gratitude to you for accommodating last minutes requests and changes for their spa day at Round Hill.  It was an elegant, relaxing and rejuvenating ending to a memorable, perfect trip. The tours prices were very affordable and payment arrangements via credit card were made easy, accurate invoice and with confirmation receipt each day. Excellent and professional all the way, and we were very pleased to support a locally-owned business! Please know that we will definitely contact you again for our next trip to Jamaica, and will highly recommend your company to friends, family and business associates who will be traveling there later this year and next for vacation and business.
Warm regards, Alonzo and Family
March 23, 2012
Our driver Uton was great and gave us a lot of interesting facts about Jamaica that we really enjoyed!
March 17, 2012
Hello: Our experience was great! Driver was waiting for us and he was easy to find. He drove carefully, and was friendly. We have been to Jamaica numerous times prior to this visit, and the driver and type of vehicle was the best yet! We had over an hour ride and were quite comfortable.
On the return to the airport, we had the usual worries if driver would be on time…we didn't want to miss our flight, etc. But Karandas Tours driver was right there, even a couple minutes early, allowing us plenty of time to get to airport with no stress.
We would definitely use your company for our next visit.
Regards, Sandy
March 11, 2012
Dwight, We had an excellent time.  Our driver was prompt, courteous and professional.  I am especially pleased with his flexibility in taking us to Margaritaville in Ocho Rios for lunch after climbing the falls.  There were no problems at all.  We will certainly recommend your service and the private tour option.
Warm Regards, Scott Truesdell
March 1, 2012
The driver was great and quite knowledgeable about Jamaica.  I will definitely recommend you if anyone else goes to Jamaica. The van was very nice.
Lainie Adams
February 22, 2012
Dear Mr. Soares, We could not have asked for a better excursion. Our driver was very knowledgeable, very professional and took us to the tubing area first. We were the first party to go tubing. We had a blast. We highly recommend Karandas tours. Everything worked out great.
Sincerely,
Valerie Haynes
February 7, 2012
Hi Dwight, Sorry for the delay here, but just getting back in to normal routine here after our very satisfied trip to Jamaica. I tried to find the way to add to your testimonials on site but could not get in.
Even though you were not the driver due to family emergency, your replacement Uton was very courteous, knowledgeable and very friendly driver. He had stopped for our every needs and was very flexible even though there were 31 of us including infants and young children's from Canada, UK and US singing every few minutes Happy Birthday to my 50th unforgettable day with this tour of Bob Marley's birth place and Dunn River Falls  was very exciting and was the highlight of our trip to Jamaica.
Thanks for your all your help during reservation of this prior to us arriving in Ocho Rios. Jamaica is beautiful and people are very friendly, yes there are few vendors who will try to sell you souvenirs, but that's no different to any other country we go to on our Vacations. and nothing to worry about, as when we said no thank you, they left us alone.
Thanks again for all your help and please pass on special thanks to Uton.
Take care and have a great day.
Soobs
 January 26, 2012
Our guide was excellent, he was on site and ready at each stop
January 19, 2012
Dwight, Thanks you for your email. First off, I would like to say that I am a Travel Agent for Expedia and send hundreds of clients each year to Jamaica. I have a soft spot in my heart for Jamaica since I married my husband there in 2002.
With that said, I am on the constant look out for excellent private tour operators that offer excellent experiences for my own personal use as well as the use of my clients. This was my first experience with Karandas Tours and it most certainly will NOT be my last. Our experience with Uton, our tour conductor, was absolutely professional, stellar and memorable. He answered all of our questions and made sure we had the tour that we wanted!
We first were taken to the Rose Hall and Uton took care of our tickets and linked us to our private tour guide. This was an EXCELLENT experience. Our group of 5 felt so special as if we had a private tour arranged – which we did thanks to Karandas Tours and Uton – and had the tour guide all to ourselves. While touring the property, we witnessed masses of cruise ship tours and we found ourselves very glad that we were not with them and had our own private experience!
Uton waited patiently while we bought items from the gifts shop and then we were on our way to the White White Witch Golf course and other scenic places and affluent areas of the Montego Bay area.
As a real treat, Uton then took us to Scothies for lunch … we begged him to join us and we would pay for his lunch, but he would not:(.We had the jerk chicken, pork, snapper and the beans and rice…it was FABULOUS! What a fabulous suggestion!
While driving, Uton made sure he pointed out all of the important items as we drove by them and then he honored our wishes of returning to the ship without beach time of Jimmy Buffet's Margaritaville time … we were stuffed from lunch and tired.
Again, Uton did an excellent job. We were cruising with a group of 60 on the Carnival Magic and I have 2 more groups booked on the Magic this year that I will be sending and I will HIGHLY recommend your tour company and Uton. I came away from Jamaica wanting to return soon due to the fabulous experience we had with Karandas Tours and Uton! My 18 year old son loved the tour so much, he personally tipped Uton $40 of his own hard earned tip Money from waiting tables in a restaurant back in the States.
Thank you so much for making our stop in Jamaica so memorable and positive! We will be back and I will refer all my travel clients whether they are travelling by land or sea to Karandas Tours going forward!
All the best!
Laura Carney
Cruise & Vacation Specialist!
November 16, 2011
We had an excellent time on the excursions and our driver was the best. He was very accommodating and was very pleasant. We felt like he was our very own personal driver as our personal group of four were the only ones on the bus. Great trip, would highly recommend  Uton to anybody.
After the falls Uton took us to get some coffee in Ocho Rios. He did great.
November 13, 2011
Hey Dwight, No problems! Uton was awesome and put up with our Crazy Canadian style! Will always contact you guys for any of our planed excursions! Look forward to seeing you again as we are moving to Mamee Bay early next year!
Talk soon and thanks for everything!! Cheers!
November 2, 2011
Our driver was at the port when we arrived and even though we were still waiting on one person he was very tolerable of it. He was very courteous and told us things and pointing things out about the island.
He was on time and I felt very comfortable that he would be where he said when our tours were complete.